John is one of the newest piano tuners on the scene in Ireland and we wanted to get some insights on his journey to becoming a tuner after an increase in queries on how to become a tuner from clients and families.
We want to thank John for taking time out of his busy schedule to answer some questions.
Why did you get into piano tuning?
I've worked and been involved in many aspects of the music industry over the years but always loved the idea of being a tuner/technician. It appeals to my obsessive nature and gives me great satisfaction to leave a piano in tune for the player to enjoy.
What was required to become a tuner?
Traditionally tuners would emerge from either a family business or you'd have to find an apprenticeship. None of which were an option for me although I did subsequently find out my great uncle was a tuner for McCullogh Piggotts. I had to make the move to the UK where I attended Newark-On-Trent's Piano School. A small market town in the midlands, booming with prospective tuners, violin, guitar, brass and woodwind makers. Over the course of 3 years you're taught tuning and restoration along with many other aspects of the trade. While I was on that course I managed to gain employment from a well respected piano shop in South London. A culmination of all this experience gave me a solid and well informed basis to set up my own business along with the opportunity to not only build my own customer base but work with other well established shops like Thornton Pianos.
What's involved in the work day of a tuner?
A typical day would involve an average of 3 pianos depending on location. The public pianos, music schools and cruise liners will generally require more time as these pianos get used a lot and may need some repair or regulation. Asides from loving the work, I get to meet all sorts of people and find myself tuning anywhere from a cowshed to a concert hall! No two days are the same.
Tips and recommendations for looking after your piano.
Naturally, regular tuning is top of my list. If you want to keep your piano at concert pitch and sounding its best then it's a must.
Secondly, Underfloor heating has become a common problem for pianos. The direct exposure to the heat can cause the wood to dry and crack and leave the instrument impossible to tune. Just be wary of where you're putting your piano and maybe take some measures to avoid any issues. Turning off the heat in the zone where you want to put the piano or even using an underfloor heating mat can increase the lifespan of your piano significantly.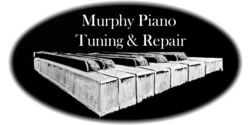 Initiator and Curator of the Pearse, Heuston, Connolly, Plunkett, Kent, Colbert  & Dublin Airport Pianos